When I first started as Summer Intern at Christian Student Fellowship, I had all sorts of ideas in my head about the possibilities we could pursue in serving God, the people we could meet, and the places we could go. After getting over my initial fantasies, I realized that I was actually sharing a tiny office, using an old safe as an office chair, and staring at Facebook all day. For the first couple of days, I wondered, "What in the world are we going to do for a whole summer?"
As it turns out, not having a clue about what we were doing became the main theme for the summer. Before even taking my sandals off to dip my toes in the waters of an internship at CSF, someone threw me overboard into Ona, WV, home of Howell's Mill Christian Assembly. I had no clue what I was doing, where to go, or who the people were. Not to mention I had never been to a Christian camp before, much less been a member of faculty. However, you cannot grow inside your comfort zone, only when you step outside it. God truly blessed us with an awesome week at Howell's Mill with the high school campers. I made some awesome friends, and I got to grow with them as Christians and see firsthand how God worked in their lives.
I really got to connect with the high school kids at Howell's Mill in a unique way. Since it was safe to assume that most of these kids were very close to or already making their transitions into college, I knew that every single one of them would soon face the struggles and temptations associated with the college lifestyle. I, myself, have struggled specifically with alcohol in the past. The cool part about sharing my story about overcoming these problems was that it was a story from someone just like them. I'm not associated with a random organization that visits schools and warns students about drugs and alcohol. I'm not an ordained minister preaching about the path towards a sinful life. I was a friend, a brother in Christ, who was able to share a real experience with them. I had several campers come up to me and share their own personal stories about similar struggles, and I got to talk to them about how God helps us through life's trials, no matter how difficult they may seem. It was a truly awesome experience.
A week off and back to camp – that's pretty much how the first month rolled. From HMCA to Camp Christian to the Mid-Ohio Valley Youth Retreat, each camp looked more difficult and promised brand new challenges. I had never worked with kids as young as these, and I really had no idea how to handle it. Yet I had a peace as we ventured the frontiers of CSF at summer camp. I feel that God brought me more comfort outside my comfort zone than He ever had inside. Each camp experience was unbelievably amazing.
Camp Christian lowered the age group for us to junior high, but posed a staff that proved to be extremely fired up about God. Most of them had either grown up going to Camp Christian or had worked there for many years. This was good, because of course I had no idea the place even existed. We got to learn really cool icebreaker games and recreational activities (the best being British Bulldog which, if you've never played, you need to), exciting Christian campfire songs (I always wondered what those would be like), and of course found new brothers and sisters in Christ. The most exciting part for me was when Alex, a kid I had made friends with over the week, came to know Christ and asked me to baptize him. Once again, this was something I had never done before. However, I think I'll put it down as the greatest experience of my life so far, second only to coming to know Christ myself.
Finally, we dealt with yet another new animal, the Mid-Ohio Valley Christian Youth Retreat. The kids were once again younger than the previous camp, and the difficulty of trying to run a weekend camp proved to be more challenging than a week-long camp due to the lack of time to connect with kids and do all the activities we wanted to do. Here, we had to take everything we learned at HMCA and Camp Christian and put it into practice ourselves. My patience was tested on numerous occasions, and my exhaustion was amplified, but fourteen kids came to know Christ that weekend. Fourteen! This was not a large camp either, by any means. It was so exciting to see that many kids give their lives over to God.
Now camp is over, and we all get to relax a little bit. However, rest for the weary won't come easily as we gear up to take the quickly approaching Fall 2011semester head on. I'm so excited to meet new students at "Are You Moved?" (this year will be my first) and to head up Murder Mystery in November. As most of you know, the Murder Mystery is what really got me involved at CSF in the first place, and it is by far one of my most favorite parts of the year. Please pray for us as we prepare to meet new people, make new connections, grow in Christ, and find out how we can do our best for God everyday.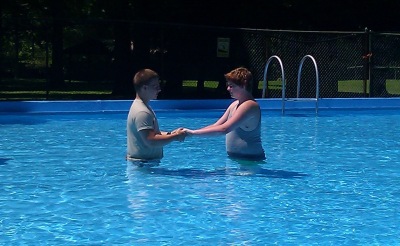 A camper asked Matt to baptize him at Camp Christian
[written by Matt Law for the August 2011 Newsletter (pdf)]